Mercury vapor and Metal Halide bulbs
These bulbs were originally meant for streetlights, but some dude got a stupid idea and made smaller versions for terrariums. What an idiot.
These bulbs give off heat and UVC. It sounds like a dream come true. But itís notÖ
<![if !vml]>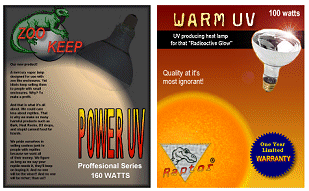 <![endif]>
Why mercury vapor bulbs are bad
These bulbs have a glass tube inside with a crystal envelope around it to block out radiation. But that envelope can crack easily. Yes, if you expose your anole to this kind of lighting it will improve but you would improve too if you took a 24/7 radiation bath. Studies have shown that you should keep your distance from these bulbs. Imagine being a foot away! Also, if these bulbs break, mercury will spill into your tank and poison your poor anoles.
Why metal halide bulbs are bad
These bulbs are bad because of their radiation. They give off so much UV that the makers decided to put filters on them. The result is too little UV.
In conclusion, these bulbs are dangerous! Avoid them! Itís sad because on their package the warnings are missing or reworded.